How to Avoid the Burn with Discovery & Mapping
If we've heard it once at Airship, we've heard it dozens of times from clients.
"I thought our previous vendor was on the same page as us. But when we got the final product, it didn't meet our specifications and left us disappointed with the results and overall experience."
Whether you've been burned by a past project or you're looking for your first tech partnership, there's a pain-free (and affordable!) way to jump start you project without long-term contracts. The Discovery & Mapping process delivers in-depth project outlines and deliverables (including application prototypes!) in just 2 weeks. In addition to the project scope, we provide delivery timelines and cost estimates tailored specifically to your application.
Below:
D&M app prototypes created by Airship for Iron Tribe Fitness in Birmingham - both administrator (left) and user (right) versions.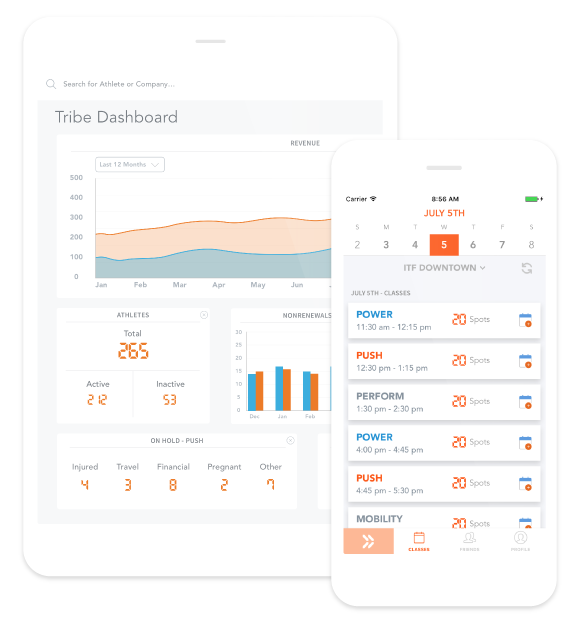 Recommended: The Discovery & Mapping Quick Questionnaire - let us know more about your project by answering our 10 most important questions we ask to estimate development costs and prototype a stunning design.
Discovery & Mapping is a one-time, flat-rate fee with no strings attached. It's our opportunity to prove ourselves to you. Everything we create is yours to keep and review. When this process is complete, everything will be ready to hand off to developers and project managers - even if you don't choose Airship.

The 6 Pain-Free Steps of Discovery & Mapping
Client returns signed Discovery and Mapping (D&M) document

Client receives and completes D&M questionnaire
Upon receipt of the completed questionnaire, Airship's Opportunity Explorer will reach out to schedule the initial Discovery meeting. This meeting will typically take one full day or two half-days in succession. We prefer to hold the meetings in person and it is best if a diverse set of stakeholders are involved (internal teams, customers, prospects, users, etc.)
The Airship project owner team will take the information collected in the Discovery meeting and use it to produce the prototype, scope documents, and project estimate.
A new agreement to build your software application(s) is provided & executed.
The Airship team gets to work on building you an amazing piece of software!
Discovery & Mapping is collaborative process between our crew and yours. We immerse ourselves in your project to create a comprehensive action plan in 2 weeks. After our Discovery & Mapping meeting, our key actions and deliverables include:
Gathering complete project requirements

Producing a prototype to showcase design and gather feedback

Fully documenting an estimate to build the required application(s)
We pride ourselves on customer excellence and consider ourselves an extension of your team. That's why we created Discovery & Mapping - to prove ourselves before signing long-term contracts.